Most of you know by now that blogging is one of my "study breaks" when my typical study breaks (work as a break from grad school and grad school as a break from work) and the snippet of exercise/ dog walking no longer work for me. Today, I thought I'd participate in this linky party from another teacher. 11 things from 2011.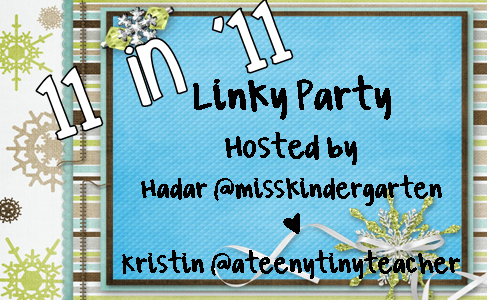 11. Favorite movie you watched:
10. Favorite TV series: Bones
9. Favorite restaurant: Applebee's-- not for the food, but for the many affordable, enjoyable dinners I've had there with some of the world's greatest company in 2011
8. Favorite new thing you tried:
Teaching at an Alternative School
7. Favorite gift you got:
A plane ticket to see my brother in Italy
Terrible Picture, but it's in the Sistine Chapel, and we had to snap a shot quickly.
6. Favorite thing you pinned:
5. Favorite blog post:
4. Best accomplishment:
Making significant progress towards my life's goals.
3. Favorite picture:
2. Favorite memory:
Italy. The wine tasting in Florence was a great night.
1. Goal for 2012:
Finish my Masters!
All in all, I'd say it's been a pretty great year.